Independent artist, I am not, but I do like to support them on occasion.
For Christmas, I was given these lovely earrings from my equally if not more lovely mother: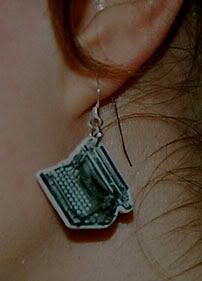 (I would post a picture of the mother, too, but I don't think that she would be very pleased)
They are by artist
Tilly Bloom
, tracked down on online marketplace http://www.etsy.com.
One snow-filled day, one of these lovely little earrings slipped out of my ear while walking home, never to be found again. I imagine that it now wanders house to house, its little earring breath fogging up windows as it peers in, spying on cozy stuffed jewelry boxes.
But this is not a story of the little lost earring. I was heartbroken upon the discovery and decided to e-mail Miss Bloom, pleading with her to send me one earring more. She turned out to be more than willing and, within five days, it had arrived at my door. Still, there was a problem- it was twice the size of the original. Sheepishly, I emailed her again, asking to order a new pair and reassuring her that I'm really not a pain. Do you know what she did? She sent me another earring, this time for free! That's right, out of the very goodness of her heart.
Anyway, I figure I'd pass on the good word about a really unique artist who is also very generous. Please check out her shop!